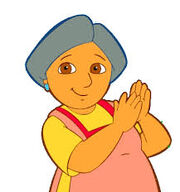 Valerie "Abuela" Marquez is the lovely grandmother of Dora, Guillermo, Isabella, Alicia, Daisy and Diego. She is the mother of Miguel and Nico and the mother-in-law of Elena and Melanie. She was voiced by Socorro Santiago until Season 5, and currently by K.J. Sanchez.
Family
Personality
Abuela is a kind and caring grandmother. She is really good at cooking chocolate cake. She would often give Dora gifts. For example, she gave her a star pocket in one episode.
Description
Abuela has gray hair, has peach skin and wears a yellow dress. Her eyes are brown with black pupils and is seen wearing pink slippers. Her natural hair color is brown.
Appearances
Abuela is a recurring character and has appeared in some episodes of Dora the Explorer. Her first appearance was "Grandma's House".
Trivia
Gallery
Ad blocker interference detected!
Wikia is a free-to-use site that makes money from advertising. We have a modified experience for viewers using ad blockers

Wikia is not accessible if you've made further modifications. Remove the custom ad blocker rule(s) and the page will load as expected.