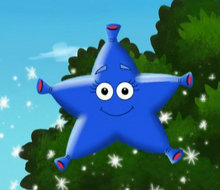 Noisy Star is a blue female explorer star from Star Catcher, Stuck Truck, Louder!, and Dora Saves the Game.
Her ability is tooting out loud "honks" like a horn. She does this to chase away bad animals or to just be plain noisy.
Noisy Star also has the ability to warn Dora & Boots about Swiper.
Ad blocker interference detected!
Wikia is a free-to-use site that makes money from advertising. We have a modified experience for viewers using ad blockers

Wikia is not accessible if you've made further modifications. Remove the custom ad blocker rule(s) and the page will load as expected.